Marianne…
Helps you become a super hero (or heroine) by teaching you mad skills.
Trained 1000's of people all over America.
Gives you your sanity back by teaching you how to be the best manager ever.
Focuses on tangible tools you can use right after your training is done.
Created training for managers, by managers.
Has been called "a rockstar."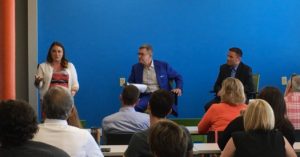 Marianne is described as brilliant, hilarious, and so engaging you'll forget to eat your snacks!
She is Ignite Lincoln and TEDx speaker…
So,what are you waiting for? Click below and sign up for the next Warrior Lab, offered in Lincoln, NE at The Non Profit Hub.
ENROLL online below or Email Marianne@work-warrior.com
or call 816-721-1224
Think your whole management staff needs training on how to handle Steve? Just shoot us an email about Warrior Labs coming to you!
Make Your Warrior Lab Reservation Now
Choose an upcoming lab below to learn more
There are no upcoming events to display at this time.